A year after he was arrested by N.J State Police, a Gloucester County man has filed a civil suit against the state for excessive force during his arrest.  Kenneth DiLuigi, 55, of Mantua, claims that when he was arrested last year for impersonating a police officer, the state police "manhandled" him when they stormed into his home and dragged him from his bed while he slept.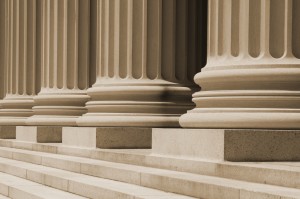 Kenneth DiLuigi, 55, of Mantua, was arrested by troopers July 16, 2012, on suspicion of using a green Ford Crown Victoria to force cars out of their lanes on the Atlantic City Expressway and attempting to pull them over to the side of the road.  His attorney contends the lawsuit is not about the charges to which his client pled guilty; but instead, about his treatment by state police during his arrest.  Attorney Christopher Manganello claimed some within the New Jersey State Police "…consider themselves above the law."
DiLuigi's suit contends that on the morning of his arrest, his wife and daughter opened the front door to the state police and informed them DiLuigi was sleeping upstairs.  DiLuigi claims they went into his bedroom, and he "was awoken by being ripped out of bed and thrown against furniture in his bedroom and a stereo receiver."  He claims he told the police about his significant and chronic lower back pain, and that he is considered disabled as a result of failed back surgery syndrome.  DiLuigi claims the state police kept him in the painful position of being partially on the bed and partially on the floor, and that the troopers' report of the arrest "without incident" was inaccurate.  Instead, DiLuigi claims he suffered bruises and scrapes during his arrest that reached the threshold of excessive force and criminal assault.
DiLuigi's suit also alleges the State Police were liable for defamation for misreporting certain events that led to his arrest.  Whereas the State Police had reported there were multiple witnesses and complaints which alleged DiLuigi recklessly drove, DiLuigi claims there was only one car, with a husband and wife in it, which reported anything to 911.
The State Police and state Attorney General's Office declined to comment on the suit, though in a court filing last month, the Attorney General's Office did petition the court to compel DiLuigi to more clearly state his claims, asserting the complaint was vague and that DiLuigi did not offer a legal basis for his allegations.