According to the police department records of Helmetta, NJ, town officers issued 222 speeding tickets in a single square-mile of the borough between September of 2011 and March of 2013.  The number in itself may not raise many eyebrows, but what has caused a stir is that only two of those tickets were issued to residents of Helmetta.  One top civilian police official admitted those statistics were "startling", while Police Department Director Greg Bennett said "I wish I had a magic answer; I don't.  The numbers speak for themselves."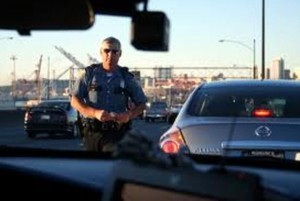 While there is a sign that reads "REDUCED SPEED AHEAD" the sign is reportedly much smaller than the one immediately preceding it that reads "Helmetta Welcomes You."  This may seem contradictory for a town that, it was previously reported, had a mayor issue a directive that only out of town drivers receive tickets.  Bennett said that since he took over the police director job 11 months ago he had not issued any order like that to his officers, nor did he discover any written policy in place directing them to do so.  Bennett also said that he met with every officer on the force and all said they had not been ordered to ticket only non-residents.  Bennett suggested that Helmetta residents know their officers aggressively enforce local traffic laws, making them much less likely to speed.  Visitors or motorists driving through town might not be so aware; thus, leaving them more susceptible to enforcement.
Some contend this issue is only becoming public due to political infighting, but the disparity in statistics is real.  It has been alleged that in December of 2011, Mayor Nancy Martin ordered police to issue tickets to out of town drivers going as little as five miles-per-hour over the limit, but to only issue warnings to residents. There is speculation this was done to simultaneously bring in revenue to the town without angering any potential voters.  When Bennett's predecessor, Andrew Ely, brought this alleged order to the Middlesex County prosecutor, he found himself locked out of his office and the borough withheld his paycheck.  Ely resigned in the summer of 2012.
Helmetta records indicate that even before the alleged directive by Martin, the tickets to residents were extremely low compared to non-residents.  Between September and December of 2011, none of the 55 tickets issued were given to Helmetta residents.
If a department issues speeding tickets based on residency, it is a violation of equal protection and due process under the U.S. Constitution, according to Professor Frank Askin, the director of the Constitutional Rights Clinic at the Rutgers Law School in Newark.  This could mean that non-residents who received a ticket might have a class-action suit against the town that could lead to their ticket being dismissed.  Additionally, Professor Thomas Healy of the Seton Hall Law School, agreed that it would be unconstitutional but for different reasons.  Healy cited the dormant commerce clause and the privileges and immunities clause that requires equal treatment for residents of different states under the law.
It is important for all drivers to obey local traffic and safety laws. However if you think you have been unfairly targeted, it is important that you speak with an attorney to discuss any remedies available to you under the law.