In an effort to bolster the investigation into a fatal hit-and-run last month, Crime Stoppers of Somerset County, Inc. has offered a $5,000 reward to anyone who could provide information that leads to the arrest of the driver.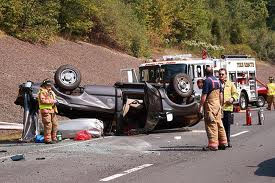 The accident occurred at 8:28p.m. on September 14 near the intersection of Route 22 West and Wilson Road.  North Plainfield Police arrived on the scene where they found the victim, Darin J. Cole, 43, of Washington Street in Berkeley Heights. He was unresponsive and showed signs of being struck by a vehicle. Mr. Cole later died of his injuries.  Somerset County Prosecutor Geoffrey D. Soriano said that the investigation was ongoing.
Authorities believe that Cole was likely crossing the westbound lanes when he was struck by a westbound vehicle.  Evidence collected at the scene indicates it may have been a maroon 1999 or 2000 Ford SUV. The front end of the vehicle may show damage to the headlight and turn signal as a result of hitting Mr. Cole.
People often compound one bad decision with another. It is unfortunately an all-too human mistake to do so.  We cannot know for certain why the driver fled the scene, but in addition to vehicular manslaughter, he or she will now face additional charges of fleeing the scene, lessening any leniency from authorities or sympathy from a jury in the process.  If you find yourself involved in an accident, you must remain at the scene. Also, it is imperative that you secure proper legal representation for yourself as soon as possible while complying with police orders.
At the Law Office of John Tierney, www.johntierneylaw.com, we zealously protect your rights and guide you to a successful result.
Authorities are asking anyone with information regarding this incident to call the Somerset County Crime Stoppers' Tip Line at 888-577-8477.  You can also leave a tip online at the Crime Stoppers website, http://somersetcountycrimestoppers.org/, or the prosecutor's office website, http://scpo.net/.
All tips are confidential.